• Carmen Abercrombie • Healing Herbs • Sacred Self Care • Stress Less • Testimonies
Nerve Tonic Healing Infusions Testimony - Back on April 29, 2019 I was diagnosed with CSR Retinopathy (central vision loss, seeing a flash or gray spot in eye) due to extreme stress and anxiety. And when one is highly stressed and experience anxiety, our natural cortisone levels in our body increases, I know stress can cause some harmful effects to our body, but my vision I was not expecting at all. I did some research on my own and seen that many of people suffer for years with this condition, and I did not want to go through what some...
---
• Carmen Abercrombie • Celebrating in tough times • Sacred Self Care • Self Care • Self Treats • Valentine's Day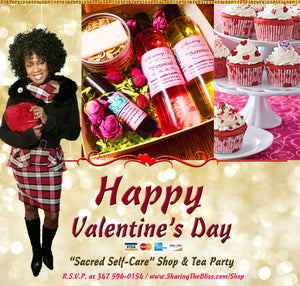 Hi Beautiful! How have you been? To be honest with you, this year has been an emotional rollercoaster ride for me! So much so that I was about pass on the whole Valentine's Day thing! After attending a dear friend's fun and girly 60th Birthday Brunch on Sunday however I was reminded of why we must continue to celebrate life through times of sadness, sickness and even grief! Valentine's Day is not just about couples and romance! It's a celebration of love which includes SELF-LOVE which requires SACRED SELF CARE! If you're like me you can use some Sacred Self-Care right about now!...