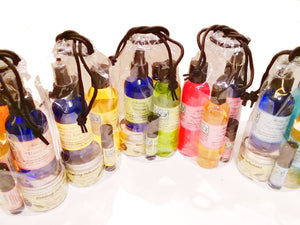 5 Pc. SINUS RELIEF Wellness Tote
Regular price
$64.00
$0.00
Unit price
per
4oz. Wellness Mist, 4oz. Aromassage Organic B&B Oil, 6oz. Bath & Shower Gel, Wellness Wand and 4oz. Cold & Flu Tamer Healing Infusions (Tea) in Vinyl Travel Tote

((Eucalyptus, Lavender and Peppermint)
"...Seeing He giveth to all life, and breath, and all things." Acts 18:25
Opens the nasal passage ways to help one breathe easier. Beneficial for respiratory problems such as asthma, bronchitis, colds and flu. Helps to alleviate sinus headaches and pressure. Massage temples with Wellness Wand then relax head on a pillow misted with Sinus Relief as soon after the first symptoms occurs. Use Wellness Mist for steam inhalation. Create a Sinus Relief bath for an invigorating treatment which will clear and open energetic pathways and speed healing processes. If prone to sinus congestion keep Mist and Wand with you at all times.
---