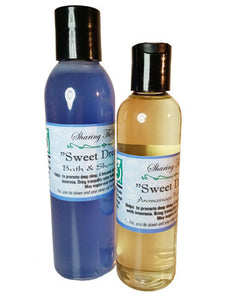 SWEET DREAMS Bath & Body
Regular price
$18.00
$0.00
Unit price
per
Bath & Shower Gel ~ Use in place of soap in the bath or shower. Squeeze a little on a bath net sponge or nylon bath glove for a luscious, lathering, aromatic body cleanser. Ingredients: Aromatherapy Grade Lavender, Clary Sage & Sweet Orange Essential Oils in a shower gel base containing water, sodium lauryl sulfate, lauramine oxide, glycerin, decyl glucoside, magnesium chloride, citric acid, benzisothiazolinone, methylisothiazolinone.
Aromassage Organic Bath & Body Oil ~ This 3-in-1 oil rich in vitamins A, D & E. Nourishes and condiditions dry skin.  A pampering treatment for bath, body and massage. Ingredients: Aromatherapy grade Lavender, Clary Sage & Sweet Orange Essential Oils Certified Organic Sunflower Seed Oil 
"...thou shalt lie down, and thy sleep shall be sweet." Proverbs 2:24
Helps to promote deep, restful sleep. Relaxing, calming and euphoric. Soothing to highly sensitive individuals when feeling overwhelmed. Brings tranquility and balance to the mind and emotions. May inspire vivid dreams. Create an evening ritual with a Sweet Dreams bath followed by treating the sheets with Wellness Mist.
---